Check out our deals on mule tape halters
Check out our deals on mule tape halters
---
Welcome to the Kissing Horse Ranch!
You've come to the right place. Whether you're looking to buy a horse or outfit your current one, The Kissing Horse Ranch is your one stop shop! Feel free to browse our numerous products and accessories for you and your equine friend. We take value in an old fashion customer service. Serving you for over 40 years with our family run business we have learned that, the name can change but the quality of service will always be the same.
Use HTML to format your text so it can be easily read. This text can be used to share information about your brand with customers.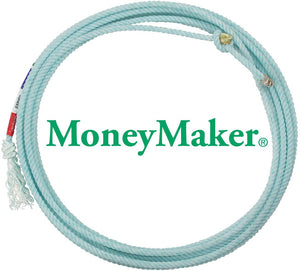 The Money Maker
The MoneyMaker didn't become the best selling three strand in the industry by accident. It earned its reputation thanks to a heavier body, less bounce and a more consistent feel. As the first blended rope with a heart of twisted nylon and polyester filament, the MoneyMaker created the class. Once a leader, always a leader. MoneyMaker is in a class of its own. 
purchase here